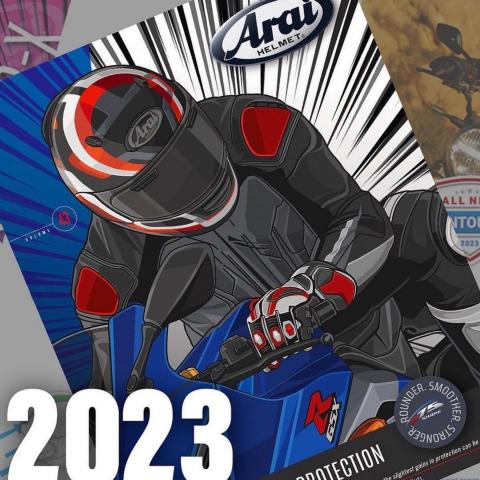 THE ARAI 2023 BROCHURE IS HERE!
2023 is here and so is the all-new Arai digital brochure. Check out the latest Arai helmets, graphics, and accessories in the new 2023 Arai digital brochure including the all-new Contour-X today.

See it now at http://bit.ly/3DdrBqS.

#Arai #AraiHelmet #2023 #motorcycle #motorcyclelife #ContourX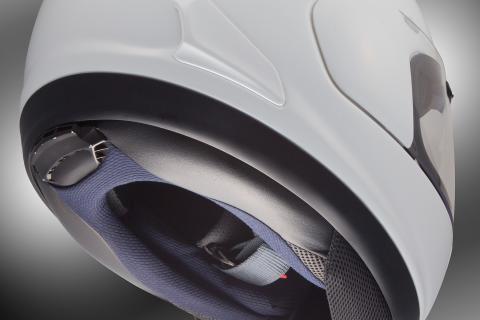 Hyper Ridge Construction
Hyper Ridge Construction circles around the shell and acts as a shock absorber like an automobile bumper, which improves shell strength around the bottom opening of the helmet and mitigates the spread of cracks in the shell in the event of an impact.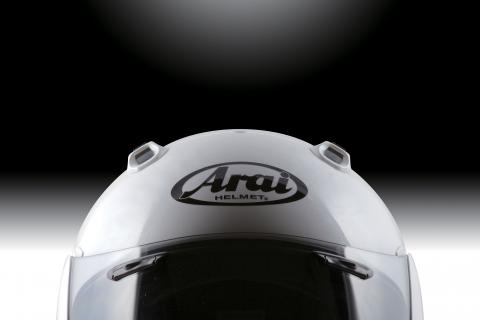 R75 Shape
Each hand-built Arai helmet shell incorporates a continuous curve radius of at least 75mm, making our shells round, smooth and strong. There are no exaggerated protrusions or hard sharp angles in the shell. This aspect is a foundational basis for Arai shells, which we call R75. This R75 characteristic describes a shell shape that is rounder and smoother, which is better suited to deal with the unpredictable nature of impacts coming from any direction. It also mitigates rotational energy, which we call M.O.R.E. (Mitigation of Rotational Energy). By focusing on R75, Arai gives you M.O.R.E.!
The Snell Foundation helmet test standard has been highly respected in the industry for more than 60 years. The test, influenced by actual accident data, is performed above a specified test line. Note the similarity of Arai's R75 "Round, Smooth, and Strong" engineering standards to the Snell requirements for a strong helmet shell. That is a baseline for us—the starting line if you will.
*The R75 shape is one of our in-house criteria. It does not apply to areas below the test line, attachment areas of shields and ventilation ducts.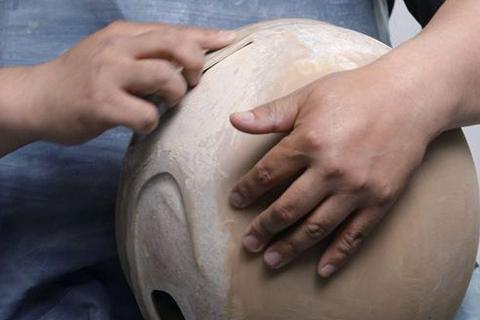 Organic Shape
With the R75 concept as an integral aspect of protection, Arai has been developing shells for decades with an organic shape that cannot be created by computers. The organic shape is developed by the hands of artisans who understand what is most important in a helmet. Better comfort for the human head comes from an organic shape made by hand just for you.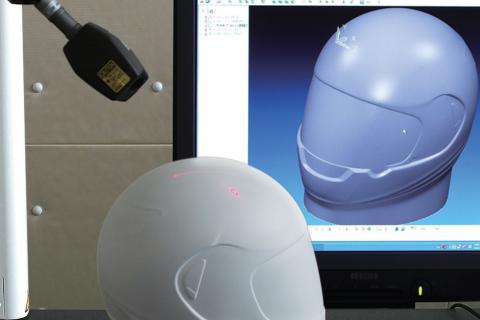 Organic Shape in Digital
While we still prefer to create our shells by hand, that doesn't mean we do not embrace technology. Once the shell design is finished, the shape is digitized using a 5 axis laser scanner, faithfully preserving the craftsman creation to the finest detail with no loss of the original organic shape.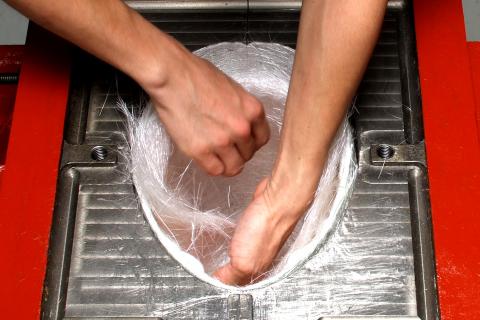 Shell Molding
To create a shell, over 20 precisely cut individual pieces must be accurately placed into a preheated mold. The shell maker must ensure each piece is positioned correctly, as the slightest misalignment could cause a shell to be rejected. Shell makers go through an intense 2 year apprenticeship to become in-house certified as an Arai Shell Expert. Currently, there are only 15 shell experts making Arai shells.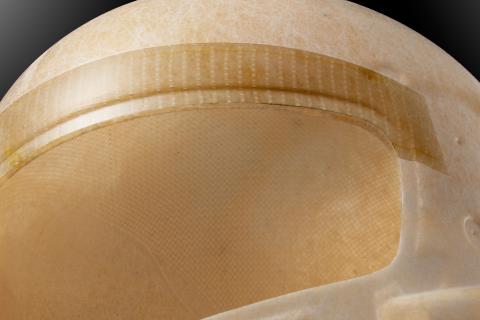 Special Super Fiber
Shells developed by Arai are made using Super Fiber. Super Fiber has 30 percent more strength than conventional fiberglass, and is six times more expensive compared to other, similar fibers. Only Arai uses Super Fiber for its helmets because it provides superb tensile strength and resists cracking.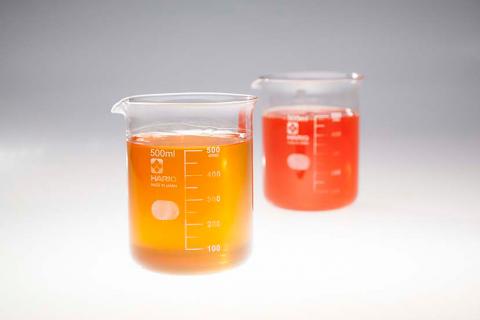 Resin Formulated by Arai
In order to create strong helmet shells, materials must bond together firmly and completely. Arai's unique resins are developed in-house and are specially formulated for our helmets. Arai strives to use a minimum amount of resin to keep the helmet light, while still fully bonding the shell material. Arai's shell construction techniques were developed to get the fibers as close to the surface as possible with an even balance, so shells do not have pools of resin which could be fragile.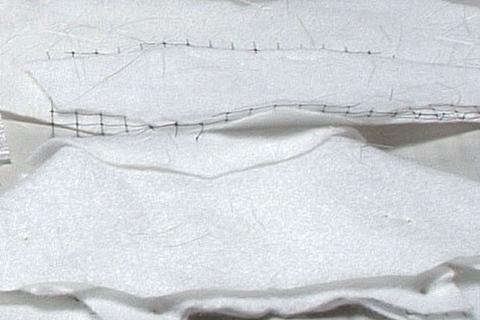 AR Mat Developed by Arai
AR Mat, developed by Arai, is made up of a non-woven material that gives the shell enough thickness for protection but with minimal additional weight. This unique product is integral to making helmets stronger and lighter. This material isn't needed to pass any standards, as similar strength could be achieved by adding more layers of fiberglass, but the result would be very heavy. It's these unseen materials that contribute to the difference in Arai's helmets.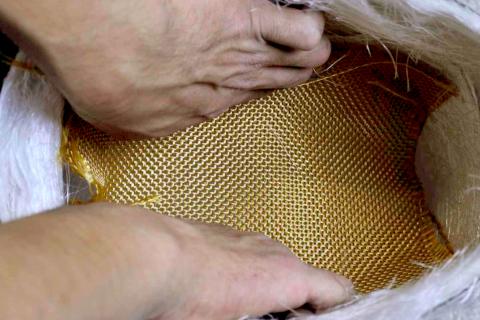 Zylon
Zylon, used in the crown area of PB-SNC shells, has excellent anti-penetration and tensile-strength characteristics. This lightweight material helps lower the center of gravity, so the helmet feels lighter than its actual weight while riding, helping increase comfort and decrease fatigue.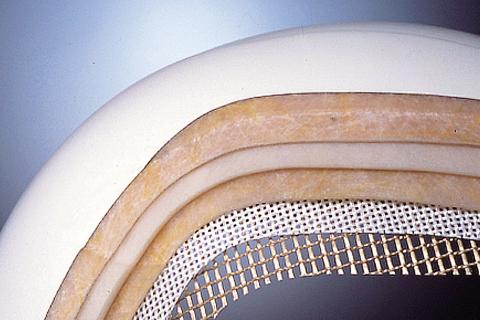 Fundamental Shell Construction
By sandwiching Arai's specially developed AR Mat between two Super Fiber preformas, or birds' nests, we can achieve greater strength with minimal material—similar to a honeycomb laminate material—which results in a weight reduction while significantly increasing strength.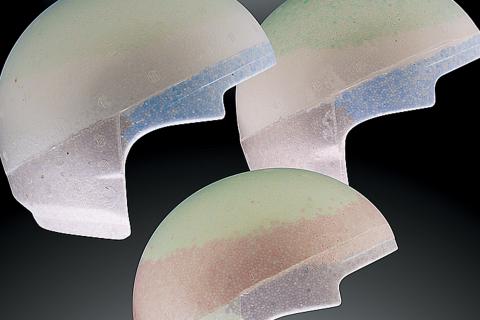 One-Piece Multi-Density EPS Liners
Our one-piece multi-density expanded polystyrene (EPS) liners are made by hand, not machines. We developed these complex liners so we can fine tune impact energy absorption in all areas of the helmet as needed, while keeping the size as compact as possible with uniform thickness. Depending upon the location of an impact, the area that absorbs the impact energy can be very small. For example, the top, sides and back are relatively large areas with ample surface area to disperse energy, whereas the forehead just above the eye port is quite narrow by comparison. That's why our one-piece EPS liner integrates different densities according to the volume and position of each area of the helmet for maximum protection. This liner technology developed by Arai enables us to create a compact shell structure that's both strong and light. There are 10 EPS densities to choose from, and depending on size there can be up to 4 densities in one shell. With up to 5 shells to cover all sizes of a model the possible combinations add complexity to our manufacturing process, but result in gains in protection.
In an impact, the human head contacts the EPS liner first, so we strive to use the softest densities whenever possible. We are able to do this because of our strong outer shell. Some manufacturers use a harder EPS liner to compensate for a weaker shell. A harder or thicker EPS liner can save cost and/or weight, thus altering the balance of protection between shell and EPS liner in order to pass a given standardized test. Designing specifically to pass a test, however, may not represent all possible impact scenarios. Arai believes that shells should be stronger and EPS liners should be softer in order to maximize protection for the rider.
We use various EPS densities to meet the specific performance criteria of each area of the helmet to achieve the impact-absorbing characteristic we want. EPS liners are designed specifically for each size helmet to achieve Arai's high performance goals.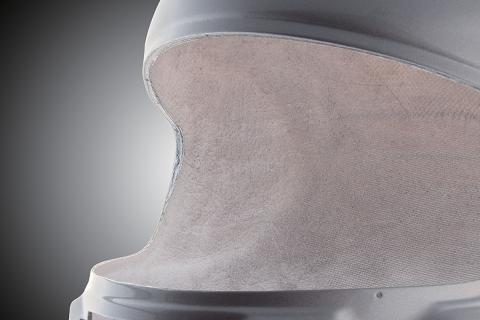 Shield System
One of the main advantages of the external side pod or pivot cover for mounting the shield is that it carries the mechanism outside of the main shell surface. The external pod allows for a lower profile mechanism, with much of it contained within the thickness of the shield itself. With this design, the smooth and round shape of the shell can be maintained with minimal recess into the interior, thus avoiding deep recesses that can take away the EPS liner inside.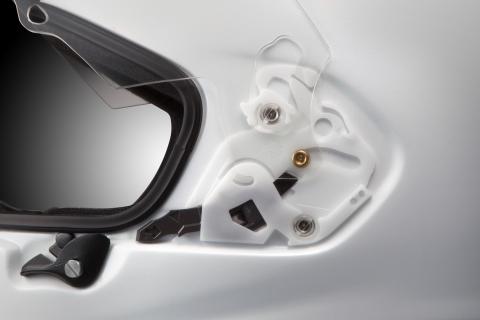 Variable Axis System
The new Variable Axis System (VAS) lowers the top of the side pods by nearly an inch on the helmet, and moves the shield pivot down. This lower pivot axis allows for a more round and smooth shell surface above the holder for improved glancing off, which contributes to the helmet's M.O.R.E. design and overall gains in protection.
All full-face X-series models share the exact same VAS shield in all sizes. They all feature a 10mm-wider eye-port opening compared with the previous SAI shield generation, which enhances peripheral vision. All X-series models also come with a Pinlock anti-fog lens ready cavity shield, which we call the Max Vision shield.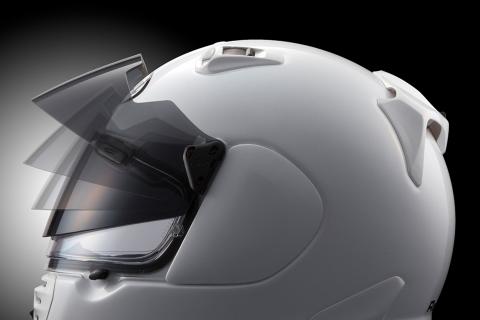 Pro Shade System
The Pro Shade System is Arai's answer to an internal sun shade. By having an external drop-down sun shade, as opposed to one positioned internally between the shell and EPS liner, impact-absorption performance is not diminished. Maximum EPS thickness is retained across the front and at the sides of the head where an internal drop-down lens and its pivot mechanism would be located, allowing optimal rider protection. It also allows Arai helmets to keep their Snell rating.
Additional benefits of the external Pro Shade System is that the shade has several positions to deal with different light conditions, allows sudden bursts of light to be dealt with by just dipping your head slightly (without having to take you hand off the bars) and when fully up can still block overhead glare – even from street lights at night – internal sun shades offer only up or down. Finally, the Arai Pro Shade System shield can be added to the helmet of your choice or moved from one helmet to another.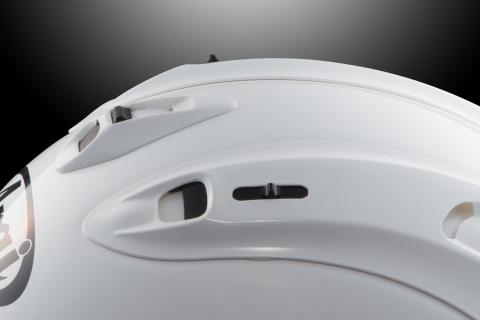 Intake Airflow
Holes in the forehead area may be an effective way to ventilate a helmet interior, but holes in a location close to the shield opening sacrifice shell and liner material in a critical area. Arai instead uses brow vents within the shield itself, allowing efficient interior ventilation without compromising the energy management designed into the helmet.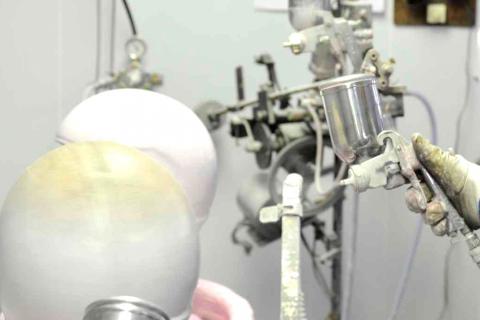 Painting on Shells That Have the Maximum Fiberglass Content
Arai's stronger shell is achieved with a maximum fiber/minimum resin content ratio, which tends to leave a slightly rough surface. The fibers, not resin, are closest to the surface, thus making the shell surface strong but difficult to paint. More resin on the surface would make the shell easier to paint, but would result in a heavier and/or weaker helmet. Arai accepts the need for additional steps in the paint process rather than compromise the strength and integrity of our shells.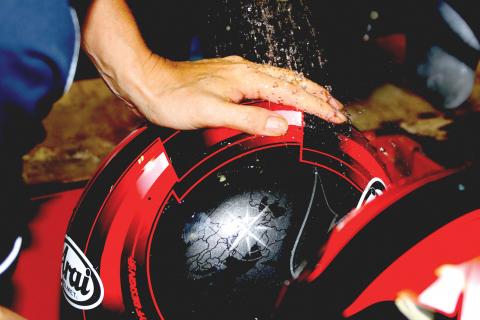 Paint and Polish by Hand for High-Quality Finish and Less Weight
The Arai paint process includes hand painting and finishing each helmet, and involves more than a dozen steps to deliver a flawless finish. Only human hands can follow every contour of the shell and deliver the kind of detail we require of every Arai helmet.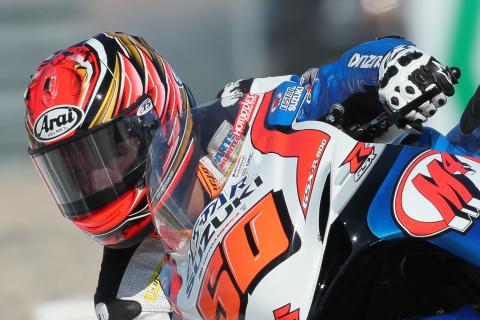 Racers put our helmets to the test
From MotoGP to Formula 1, Arai is chosen by many top riders and drivers, and this offers us a wealth of feedback at the highest levels of racing. Many F1 drivers and top-level motorcycle racers use standard Arai sizes. Just think of it, standard Arai sizes are good enough for world championship contenders to perform at their peak under the most extreme race conditions. These are exactly the same size helmets customers can buy at Arai dealers – with micro fitting options included in the helmet as well!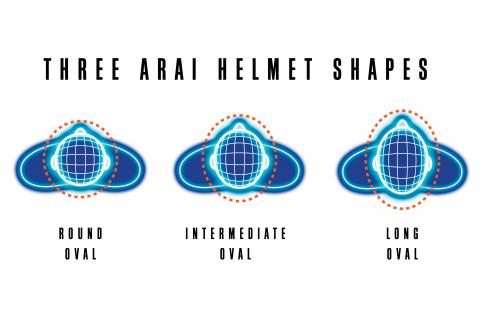 Incredible Fit Out of the Box
A remarkable feature of every Arai helmet is the superior fit right out of the box. The simple truth is that a better-fitting helmet is not only more comfortable, but protects better. That's why Arai leads the industry in developing new ways to provide every rider with a helmet that feels as though it were created just for him or her.
With multiple interior shapes, and an extensive range of interior liners and removable and adjustable cheek pads, your Arai helmet can be adjusted to achieve an optimal fit.
Start with your measured size (see chart), then try all three Arai interior shapes — round-oval, intermediate-oval, long-oval — to find the best interior shape for you. Depending on your head shape, you might find that you can fit into a smaller helmet than your measured size.
You can further custom micro-fit your helmet if you need a little more here, or a little less there. Peel-away temple and cheek pad layers allow for a customized fit where a little extra room is needed without the need to purchase extra parts, and optional thicker pads can also be purchased to provide extra support where needed. At Arai, it's all about providing you with the best fit possible.
That's the added value Arai provides to every customer.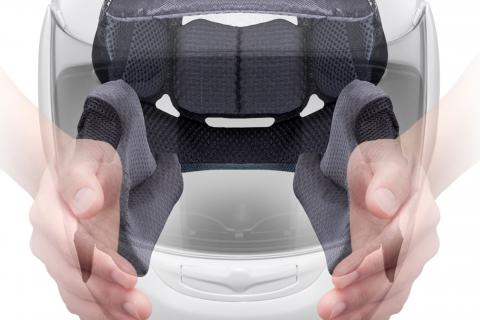 Facial Contour System Developed From F-1
Arai's unique Facial Contour System (FCS) was developed with input from our Formula 1 drivers. FCS allows the cheek pad shape to wrap in at the bottom to more accurately follow the shape of the rider's face and offer a superior fit. They cradle the rider's jaw to provide support, without excessive pressure. Our articulating cheek pads move in and out when the helmet is put on and taken off, making for easy ingress and egress.
Our articulating cheek pads move in and out when the helmet is put on and taken off, making for easy ingress and egress.
FCS and multiple interior shapes ensure the best fit and position of the helmet on the rider's head. A helmet functions at its best when your eyes are positioned in the middle of the eye port. If your eyes are not in the middle it is likely you have the wrong size helmet, or you have not put it on properly. Never pull the helmet downwards by the chin bar when putting the helmet on. This will position the helmet too low against the line of your eyes, unnecessarily obstructing your view angle.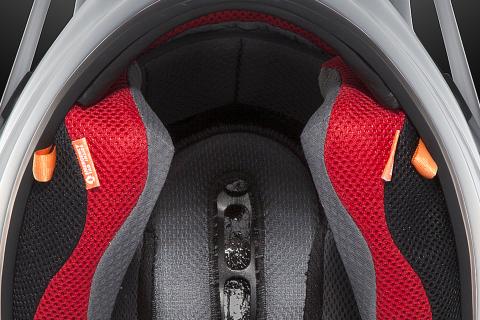 Emergency Cheek Pad Release System
This now-copied, groundbreaking Arai innovation was specially developed to allow easier access to an injured rider's head by making helmet removal easier for trained medical personnel. By pulling the orange tabs integrated in the pads, the cheek pads can slide out to make helmet removal easier in an emergency.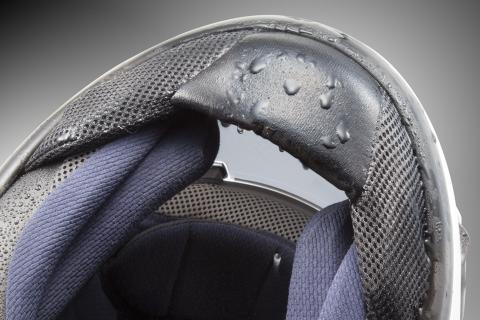 Pull-Down Chin Spoiler
Helps minimize wind noise and also aids with the extraction of hot air from the face area. Provides additional deflection of road debris away from neck.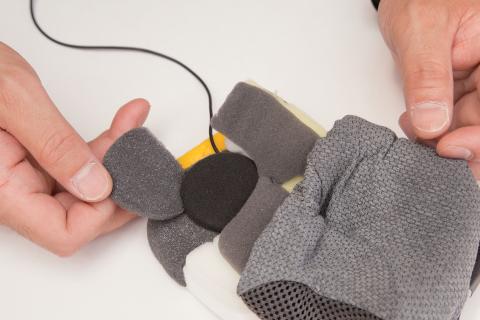 Speaker Pocket
The ear pockets of the new X-series models have molded recesses for speakers providing a more comfortable fit.