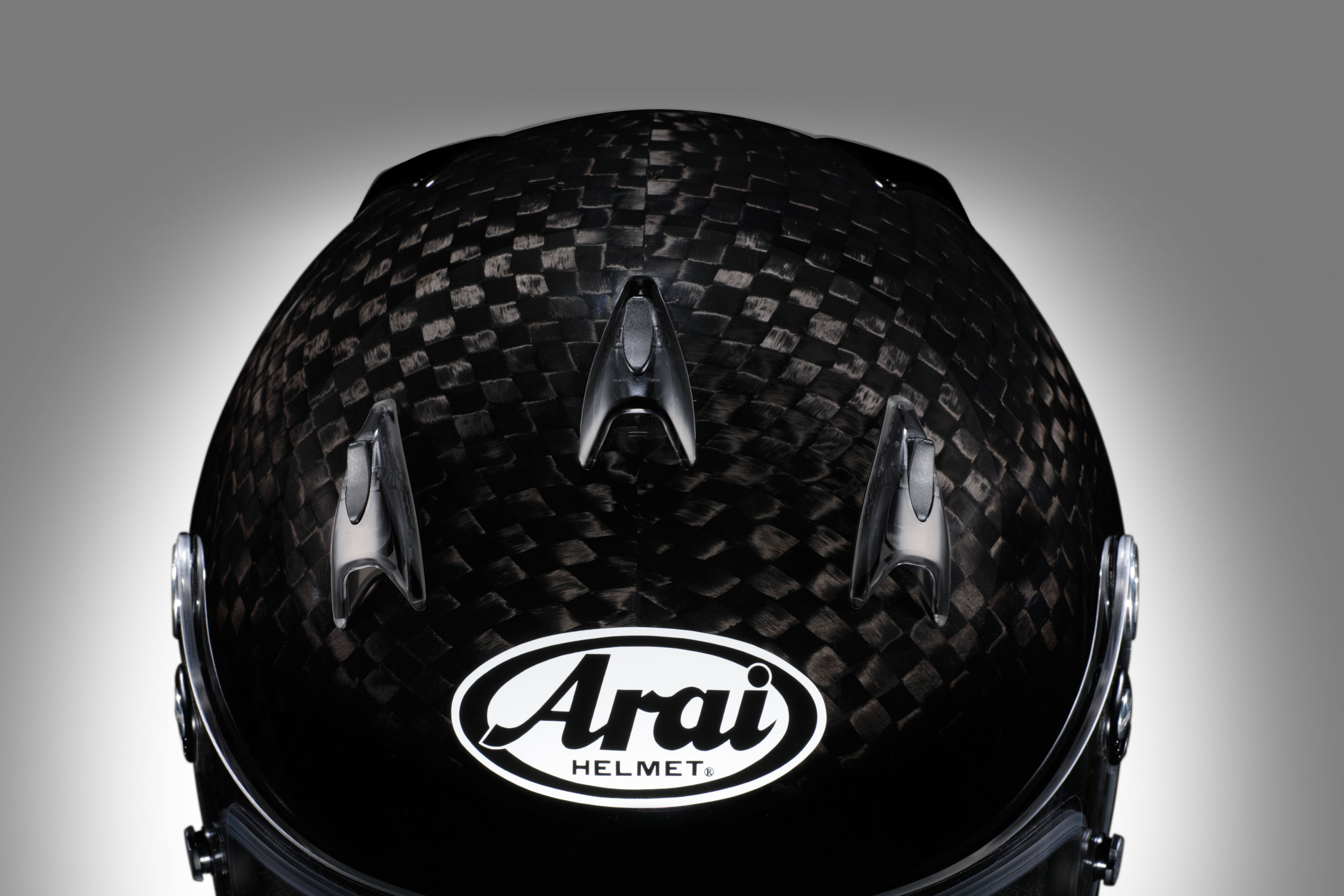 The new GP-6RC is a stunning example of Arai's vision and technological mastery engineered into a functional, real-world piece of safety equipment. It begins with a startling advancement: a proprietary Carbon Fiber (CF) weave that combines CF's existing benefits of high strength and extreme light weight with a major added benefit that standard CF does not possess: flexibility. (Standard CF tends to splinter or shatter instead of flex on impact.) The result is a helmet ready for the unparalleled demands and requirements of Formula-1 racing. One whose remaining list of features and advances is impressive because, for this helmet and its prospective user, it simply has to be. The GP-6RC meets or exceeds the FIA 8860-2010 Standard and the SNELL SAH 2010 Standard.

GP-6RC Specs and features
VENTILATION
Large, closable intake vents combined with large 10mm hole greatly increases air intake. Larger 10mm rear vent hole increases airflow even further, when compared to previous models.
NEW SHIELD PIVOT HARDWARE
New shield pivot hardware, with redesigned track slider that improves aerodynamics. New wider 6 series shield & eye port, for increased peripheral field of view when compared to the previous 5 series. Shield, pivot hardware and wider eye port were developed on the RC and are the basis for all 6 series models.
POSITIVE SHIELD LATCH
Positive latch mechanism provides Solid shield latching, while allowing normal operation of the shield. Designed to be an integral component of the shield system and function, not just an add-on afterthought. The simplicity of the function masks the complexity of the design.
HANS POST ANCHORS
Integrated seats to accommodate a variety of Head and Neck Restraint devices. Pre-Installed M6 threaded washer/nut, with 6mm threads, to accept a variety of anchors systems for variety of Head and Neck Restraint devices and make installation much easier for people not familiar with such installations. Flat surface area around the mounting nut to allow the anchor post base to rest flush with the helmet surface around the entire perimeter of the anchor base. FIA-8858-2010 certification sticker applied to the interior liner material.
SHELL
Proprietary Carbon Fiber material and weave provide an extremely strong, yet flexible material, which helps impact energy management. Multiple reinforcing materials are used to improve performance and keep weight and size to a minimum.
STANDARD ACCESSORY KIT
Standard accessory kit with each GP-6RC: Clear A/F installed on helmet; Spare shield pivot/screw kit (with shell washers); Spare upper vent kit (3-front, 2-rear) and a set of 3 Arai decals.
E-JECT READY CROWN PAD
Pre-cut pocket, under crown pad, can be easily removed to accomodate optional E-Ject(R) system.