Arai is the only company offering multiple interior-fit shapes to better address the infinite variety of riders' head shapes and sizes.
No one pays more attention to the subtle variations and infinite possibilities of the human head shape than Arai. Why? Because it's the secret to getting the best comfort and fit.
So for more than three decades, Arai has pioneered different shapes – and even different proportions within those shapes – in our various helmet models, working to offer a better fit for more people.
The Classic-V has Arai's INTERMEDIATE OVAL (IO) interior fit shape.*
*A Helmet needs to be tried on in order to determine a proper fit.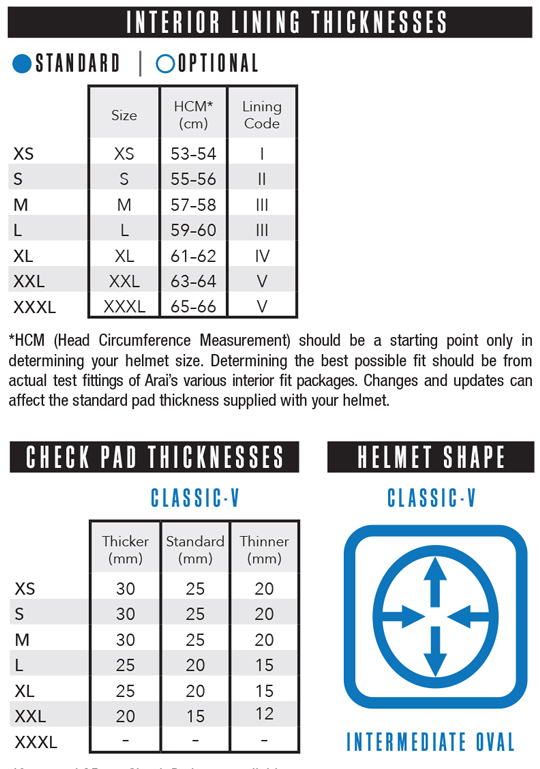 Classic-V Specs and Features
STRONG-ROUND-SMOOTH OLD SCHOOL SHELL OUTSIDE.
When it comes to head protection, just as much effort goes into the new Classic-V shell as we put into every other helmet shell we make. Proprietary PBcLc (Peripherally Belted, complex Laminate construction) shell.
PATENTED HIDDEN VENTILATION
Fresh air enters the 3 forehead channels flowing over the head, pulling away heat. Hot air then escapes through the hidden multistage channel and out the patented Venturi exhaust.
INTERIOR INTEGRATED INTAKE VENTS
Borrowing from our racing heritage, Arai incorporated 3 intake channels in the forehead area, allowing fresh air to enter the helmet and flow more easily to the crown.
HIDDEN AIR CHANNEL
Air flowing from the intake channels into the crown escapes through 3 holes in the EPS liner, pulling heat with it, into the hidden multi-staged air channel.
REAR VENTURI PORTS
Once air enters the hidden multi-stage air channel in the EPS liner, it is then pulled out by the low pressure created by the patented Venturi exhaust manifold.
HIGH-TECH, ONE-PIECE, MULTI-DENSITY LINER INSIDE.
A fundamental Arai feature has always been the One-Piece, Multi-Density Liner. Molding all of the EPS densities into a one-piece EPS liner allows the various densities to work together during an impact. This allows Arai to make a thinner and softer EPS liner for a smaller overall helmet.
INTERIOR COMFORT ENJOY THE RIDE MORE
Featuring our low acidic fabric to help maintain a balanced pH level with the skin. It is also odor resistant helping the helmet stay fresher, longer in between cleanings.
FAUX LEATHER STITCHED TRIM
Enhancing the "old school" look of the new Classic-V is the wide, stitched faux leather trim set in a recess channel in the shell for a clean finished look.
BUTTON CLOSURE GOGGLE STRAP HOLDER
Completing the "old school" look is the faux stitched leather goggle strap holder, that helps keep your goggle straps from sliding up the helmet while riding.